With SafetyRespect, you get more than fall protection products – you get an expert partner who stands by your side. We help you take control of the fall protection in every step of the construction process.
Accidents involving falls are one of the most common causes of injuries and deaths in the construction industry. For that reason, our most important task as fall protection experts is to protect lives. With the right knowledge and smart products, we are convinced that it is possible to bring about positive change.
We provide both fall protection and fall protection training courses for construction projects of all kinds. We are involved throughout the process and carry out calculations, produce documentation, deliver fall protection and carry out safety checks. Focusing at all times on providing you with the best solution for your project.
Since the products are manufactured in our own factory and we ourselves take care of the entire process from sale to assembly and logistics, we are close to our customers at all times. We work to develop both our products and our ways of working in line with your needs. Our aim is that you will notice this in your contact with us, every time and in every step.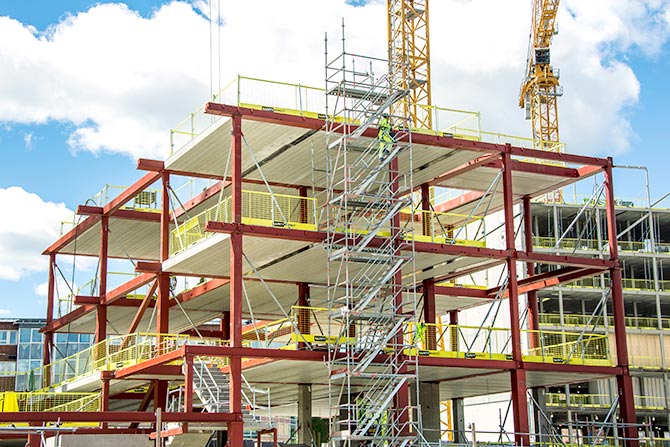 TRAINING COURSES
Working at height can be dangerous – for that reason it is important to be aware of the risks and to know how to prevent them.
The SafetyRespect Academy courses will teach you more about falling risks and how our products should be used. Our customised training courses include training on laws and rules, theoretical and practical knowledge and handling and checking the equipment.
Participants receive a digital certificate upon passing the course. You have access to your certificate and other course documentation at all times in our on-line training platform.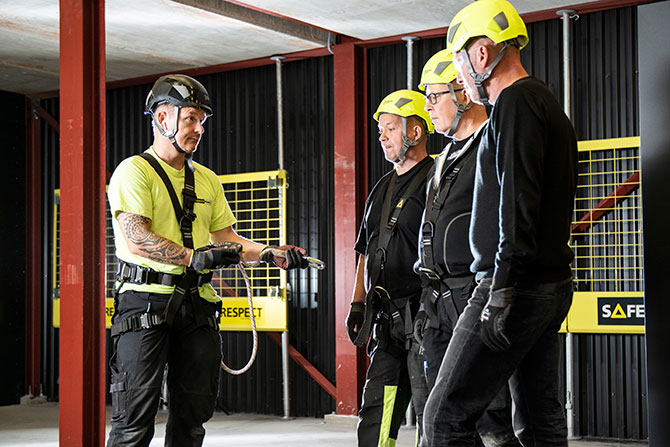 PERSONAL FALL PROTECTION
Personal fall protection is used when assembling collective fall protection or when no other suitable fall protection solution is available.
We have tailored kits that are designed for different situations in the construction project, for example for work on roofs, slabs or from a mobile platform. You can also put together your own solution from our range of individual products.
All parts of our personal fall protection are designed for the construction industry, are of high quality and comply with the latest updated EU regulations on personal fall protection equipment.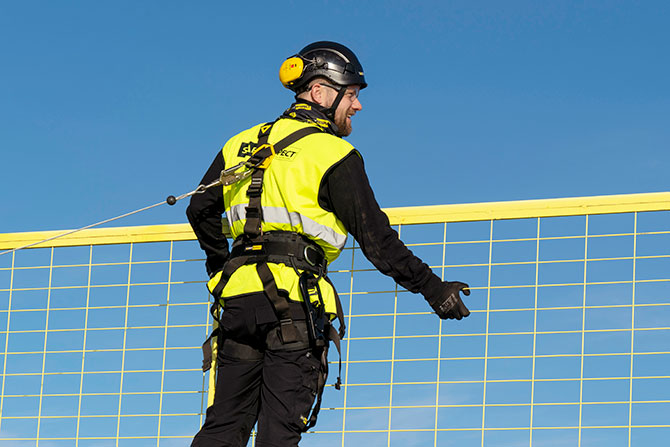 COLLECTIVE FALL PROTECTION
In construction work where there is a risk of falling, the protection measures chosen should primarily be communal – collective fall protection.
We have a wide range of collective fall protection products and are constantly developing new solutions that are designed for different construction methods. Our products are easy to use, without compromising on safety.
Our products are mainly manufactured in our own factory, which allows flexibility, quality control and the ability to manage capacity. Sales, rental and assembly of our fall protection solutions take place through our own depots. All this places us in close proximity to you – our customer. It helps us identify your needs and enables us to constantly develop better solutions focusing on the customer's needs.